Meet the Kama'aina K9 Team…
Maile Fong built Kama'aina K9 Adventures based on their love for dogs.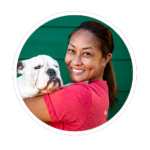 Maile Fong left a successful career in Wealth Management at First Hawaiian Bank to pursue her dream of "doing more" for animals. After several prosperous finance roles at premiere firms such as Kochiz Fitz, in San Francisco, she founded Tiare O Te Ao, a school based in Hercules, CA. Maile graduated from UC Santa Barbara. Contact info: (808) 594-2750 or maile@kamaainak9.com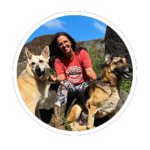 Becky Pagnotti is a Certified Veterinarian Technician and certified in Canine CPR. She has been with Kama'ania k9 since the start of business and helps oversee day to day operations. Passionate about all animals, Becky ran her own horse stable at age 18. Becky loves spending time with her family and her two German Shepherds Tasha and Benji.
Kehaulani is the proud owner of six dogs. Tyrion (Mr. T for short), a Rottweiler; Coco, a Pomeranian; Cuddles, a Chihuahua and Terrier mix; Chewie and Grizzly are siblings of a Chihuahua mix; and Chibi, a Chihuahua and Pug mix.

Stephen O'Brien has been with the Kama'aina K9 team since opening day. While working at the center, Stephen adopted a Chihuahua named, "Odie"; he also has a Pug, "Tedy Bruschi". In his spare time he enjoys physical training and competitive Jiu Jitsu.

Racquel has been with us for two years. She has two dogs, Maverick, an Australian Shepherd mix; and Remington, a Chihuahua mix. In her free time she enjoys hiking, free diving, and photography.

Remy