Kama'aina K9 Adventures is owned and operated by Maile and Kelly Fong. Having raised and shown AKC champion English mastiffs and bulldogs for over ten years, Maile and Kelly have long realized the importance of proper socialization, good exercise, and responsible training in raising well-balanced dogs and families.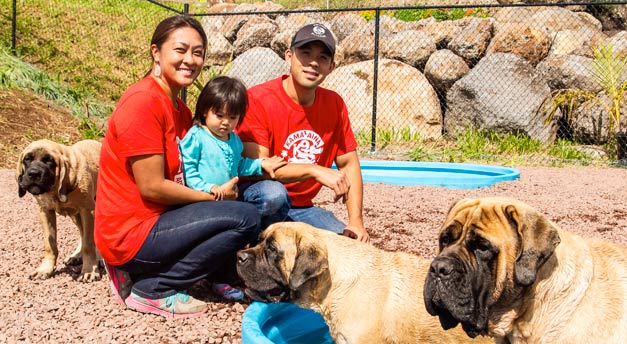 The concept for Kama'aina K9 Adventures was conceived in 2014 when Maile and Kelly began clearing and developing their family farm in order to raise miniature livestock, harvest fruit trees, and grow flowers. Not surprisingly, having that much space to run and play in a country, outdoor setting was an instant hit with their four mastiffs, two bulldogs, and many of their friends.
Upon seeing how great an adventure each of their dogs had, Maile and Kelly soon designed their farm such that their dogs could enjoy the same area as their fruit trees, flowers and miniature livestock in a safe, sophisticated manner.
Maile and Kelly's farm quickly became a fun, relaxing, gathering place for their dogs and friends on the weekends. Many of their friends had found it difficult to find safe, clean, dog-friendly areas on Oahu where their dogs could socialize with other friendly dogs and be able to run until their heart's content. Particularly challenging was finding day care facilities that could accommodate larger dogs, such as their 200+ pound mastiffs, more active dogs, or any dog that loved running outdoors.
With these frustrations, Maile and Kelly soon decided to create something found nowhere else on Oahu – an outdoor doggie day care facility built like a dog park, only better! They designed their property so that dogs could share the land with their horses, goats and fruit trees, which entailed building out several separate areas for playing or grazing. Maile and Kelly took this idea several steps further by decorating each area with a unique, exciting theme…
One year later, Kama'aina K9 Adventures, Hawaii's first doggie theme park, was born!